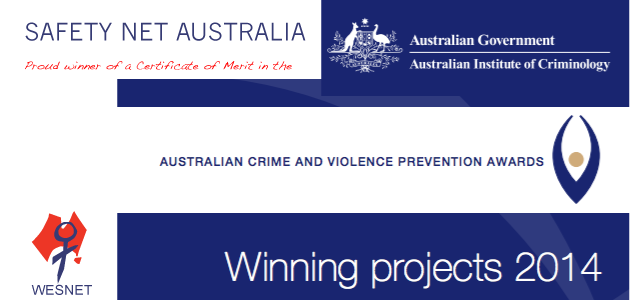 26 November 2014
WESNET's SAFETY NET Australia project was one of six projects to win a certificate of merit and $5000 prize in the Australian Crime and Violence Prevention awards yesterday.
Announced by The Hon Michael Keenan MP, Minister for Justice, the annual Australian Crime and Violence Prevention Awards are sponsored by the heads of Australian governments and members of the Standing Council on Police and Emergency Management as a joint Australian Government, state and territory initiative. They include monetary awards totaling up to $130,000 and are presented to a number of categories, including national winners and meritorious police projects.
The awards reward good practice in the prevention or reduction of violence and other types of crimes in Australia, to encourage public initiatives and to assist governments in identifying and developing practical projects that will reduce violence and other types of crime in the community. Projects may address specific groups such as rural and remote communities, women, children, youth or the family, or specific problems such as alcohol-related violence. An award may also be available for initiatives of great merit or for outstanding projects that have recently ceased operation.
These awards are primarily designed to recognise community led crime prevention activities.
WESNET also congratulates Intouch for also winning an Australian Crime and Violence Prevention Award for their work in CALD communities in Melbourne. "It was a proud moment for both of us this morning having women's family violence prevention projects acknowledged like this." said Julie Oberin, WESNET's national chair.
http://www.aic.gov.au/media_library/aic/acvpa/2014/ACVPA_2014_winners%20brochure.pdf