Empowering women to take control online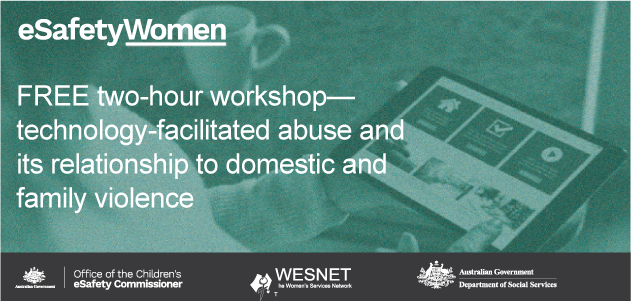 One in four Australian women has experienced emotional abuse from a current or former partner, and one in six Australian women has experienced violence from a current or former partner.* In most cases this abuse and violence includes the use of technology to abuse, control and stalk.**
The Office of the Children's eSafety Commissioner and WESNET will be jointly delivering first-level training to raise awareness of technology-facilitated abuse and what can be done about it.
This presentation has been created by the Office of the Children's eSafety Commissioner and WESNET, with support from the Department of Social Services.
The presentation is a two-hour workshop for frontline and specialist staff, mainstream professionals and those volunteering in the domestic violence field.
The workshops will give participants:
a detailed understanding of how technology-facilitated abuse can occur
the knowledge and confidence to support women and families experiencing or recovering from this type of abuse.
Participants will be equipped to assist clients to take control of the technology they are using – to make changes to reduce technology risks, information on how to access a new phone under the WESNET Telstra Safe Connections program and enhance safety for themselves and their families.
Register to attend a workshop
A list of forthcoming workshops is available on the eSafety Commission's website here.
You can also register to host a training here or Contact the eSafety Commission for more information.
---
*Source: Australian Bureau of Statistics 2012, Personal Safety, cat. no. 4906.0,http://www.abs.gov.au/AUSSTATS%5Cabs@.nsf/0/0556FBD355B2719BCA2571C50074ABF2?Opendocument
**Source: Women's Legal Service NSW, Domestic Violence Resource Centre Victoria and WESNET (2015) ReCharge: women's technology safety, legal resources, research and training. National study findings 2015.http://www.smartsafe.org.au/tech-safety-hub/resources/research andhttp://www.smartsafe.org.au/sites/default/files/National-study-findings-2015.pdf