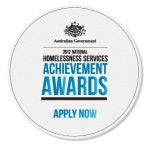 The National Homelessness Services Achievement Awards recognise the outstanding achievements and contributions that community organisations make to supporting people who are homeless in our communities. The Awards celebrate excellence and innovation by organisations, services and programs responding to the needs of people experiencing, or at risk of, homelessness.
If your service or organisation, or one you know, has made a significant contribution to addressing homelessness issues—either at a local, regional, state or national level—tell us about it by nominating for a National Homelessness Services Achievement Award.
To nominate, you can download the guidelines and nomination forms from www.fahcsia.gov.au or call 1800 702 866 to order a hard copy.
Nominations close at 5pm EDT Friday 25 November 2011.